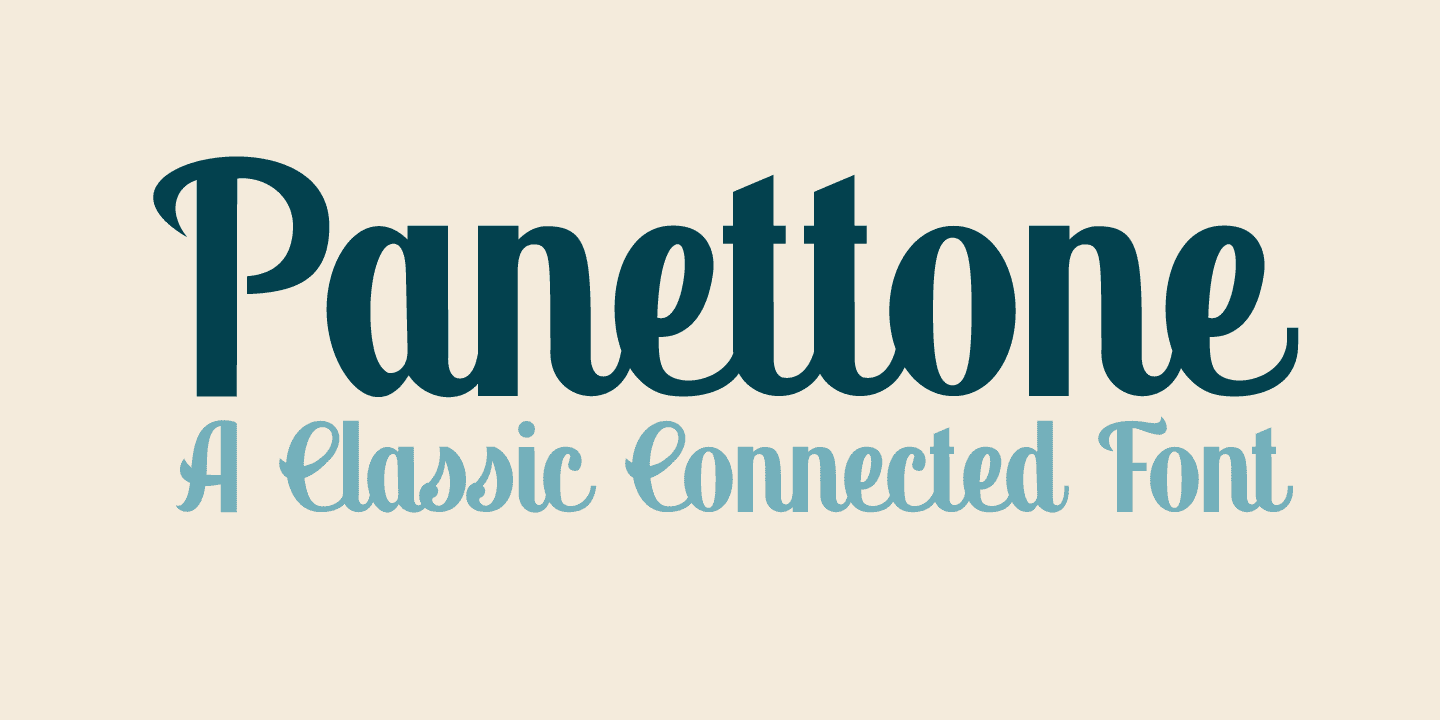 Meet Panettone. Panettone is a sweet bread loaf, originally from Milan, which is usually served during Christmas. Of course, you could use my Panettone script for your holiday and Christmas cards. Panettone is multi-lingual and will also look great on invitations, book covers, and products that need a classy or international look. Family $25.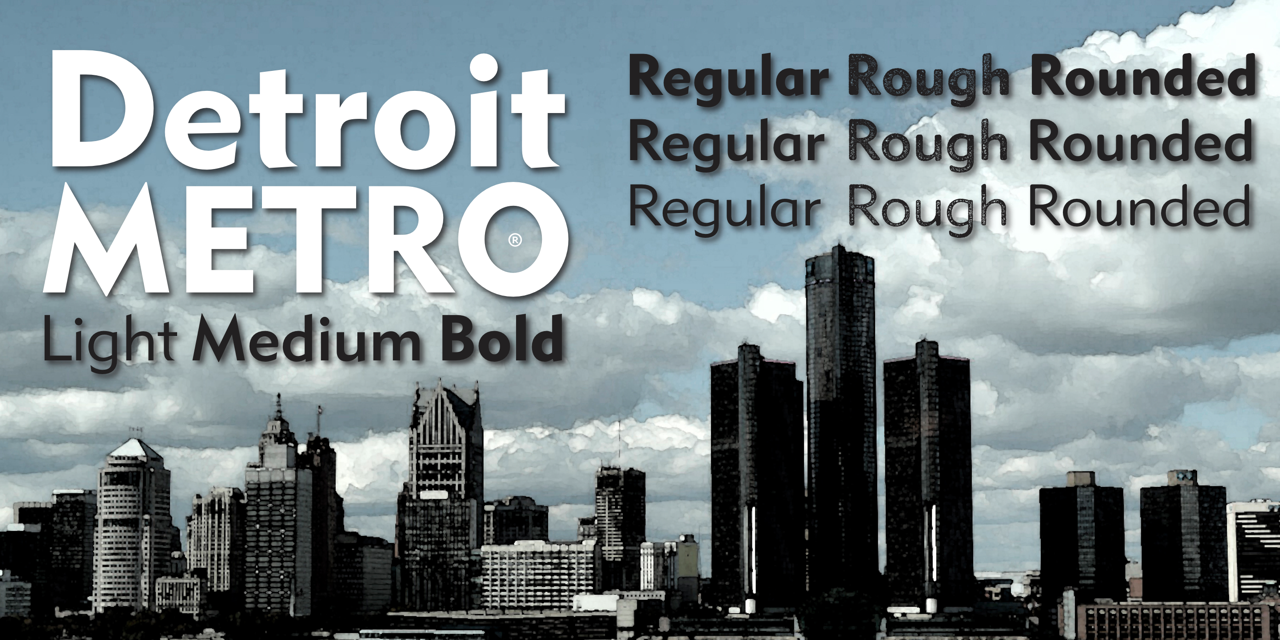 Detroit Metro® by FontHaus is a faithful version of the Dwiggins 1930 urban classic: Metro Light, Metro Medium, Metro Bold and Metro Black. 12-Font Family $59.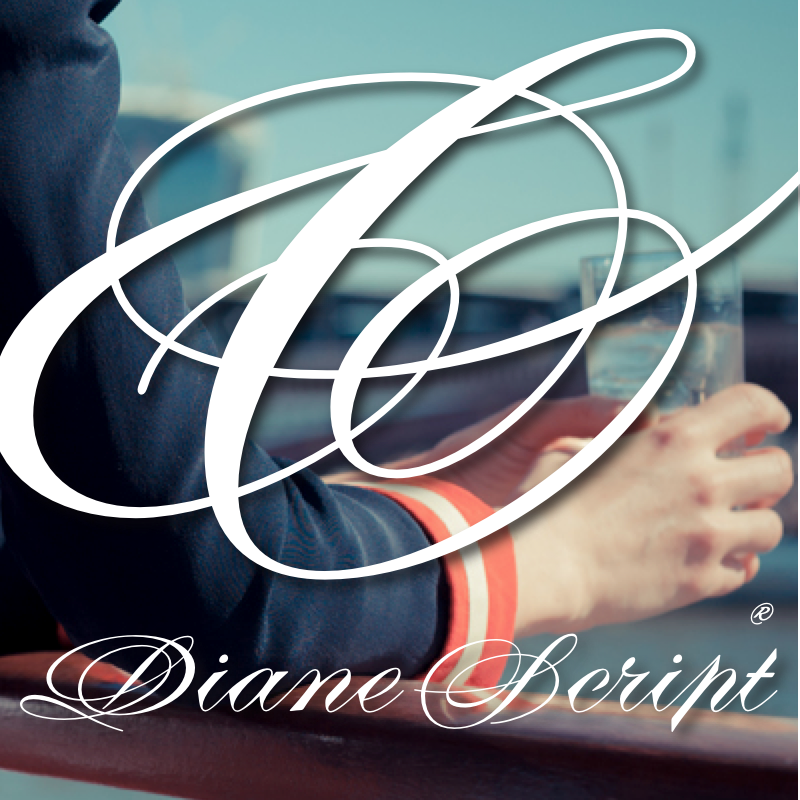 Diane Script™ was originally created by the legendary French designer Roger Excoffon in 1956. It became lost. Thirteen years later, FontHaus came across this little-known typeface treasure named Diane and with some very talented type designers and careful research, Diane was released again with great honor. Read the "About":
This beautiful script can now be yours for $25.
About This Font
An antique letterpress typeface digitally recreated with various grunge variations for a versatile font family. The Prison Pro Family OpenType versions contain an expanded language set, limitless fractionals, superiors, inferiors, tabular & proportional figures, and ordinal characters to properly type options like 1st, 2nd, 3rd, etc. The Contextual Alternates feature enables the Faux Unicase look of the original family unicase, while the Stylistic Alternates feature enables a True Unicase (without ascending characters). The original 6 font family compiled into three Opentype fonts, with much more functionality than the originals.
About Astigmatic One
In 1873, the strange and fantastic story began. Nearly two centuries later, Brian J. Bonislawsky was born, and carrying on a mix of the the footsteps his ancestors before him took, he picked up the the traditions and founded the Astigmatic One Eye Foundry, which later expanded to become the Astigmatic One Eye Typographic Institute. Since its founding Astigmatic has worked with dozens of designers, helping them forge their own foundries as well as helping to increase the quality of type created by Astigmatic and these other foundries. Astigmatic strives to continually increase its range of typographic scope; taking on expeditions to revive old typestyles, unearth long lost typefaces, forge new styles yet unseen, and begin to develop more comprehensive language typestyles of the WGL4 set size which includes Greek and Cyrillic extensions. If you are looking for a wide variety of typographic influence and style, the Astigmatic One Eye Institute is your source for type.
View fonts
Astigmatic One Eye Typographic Institute
Notice to the User. PLEASE READ CAREFULLY.
This document contains the license agreement for use of fonts created and sold by Brian J. Bonislawsky DBA the Astigmatic One Eye Typographic Institute (AOETI) and the user(s) or purchaser(s) of Astigmatic typefaces. In this document, the term "font programs" refers to any program of piece of code and/or computer information containing data that can be used to output letterforms or designs to any output or display device currently known or unknown. The base purchase price of your Astigmatic fonts includes a license for use on five (5) devices that must be connected to the same network and must reside in the same physical location. A device may be, but is not limited to, a printer, image setter, large format inkjet device or plotter, video display terminal, CPU, laptop/notebook CPU, workstation or any device where the Font Software is rasterized or the display of Astigmatic typefaces are generated from Font software outlines using Extensis Suitcase or other similar Font management software. If your configuration exceeds these guidelines, you will need to purchase additional licensing and our online licensing calculator during the ordering process will help you.

The only intended use of these font programs are for output, by various devices, of publishing designs, letterform designs, or art designs contained within the information of the font program. Additional licensing is required for broadcast purposes. You do not have the right to re-license, resell, or redistribute, these programs in any form, except for the purposes of commercial output. Print services receiving copies for output must remove any copies from their computers after jobs. Should it be determined by inspection that your copy was possessed illegally, you can and will be held liable for damages. Should you place these typefaces onto any online service or by any other means cause it to be distributed as a useable font or letterform file then you are subject to a redistribution/resell fee. By downloading this font, you are agreeing to this fee.

You do not have the right to use these font programs to create other derivative works that can be used as font programs. By your acceptance of this agreement, shown by downloading and/or installing the attached fonts, should any font or font program which is determined by industry specialists to have been made using one of these fonts presented for download as a reference or starting point, be created by you or by those under your employ, hire, contract, favor or task, said fonts shall become the property of the Astigmatic (AOETI) and all profits from said program or fonts shall be transferred to the Astigmatic One Eye Typographic Institute.

All designs included in these font programs and the font programs themselves are copyrighted by Brian J. Bonislawsky DBA Astigmatic One Eye Typographic Institute, All Rights Reserved. To contact Astigmatic (AOETI) or Brian J. Bonislawsky with any questions, licensing requests, etc. Prof. Brian J. Bonislawsky c/o Astigmatic One Eye Typographic Institute mail to: astigma@astigmatic.com or visit the Astigmatic One Eye Typographic Institute online at http://www.astigmatic.com/