x-height is a resource for designers and type buffs where you will find current, interesting and useful information about selection and use, type design, designers, font technology and history sources from type industry experts.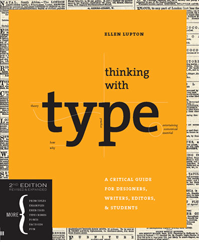 Written with warmth and clarity, Thinking with Type is an enlightening guide on using typography in visual communication, from the printed page to the computer screen. This edition includes the latest information on style sheets for print and the web, the use of ornaments and captions, lining and non-lining numerals, the use of small caps and enlarged capitals, as well as information on captions, font licensing, mixing typefaces, and hand lettering. Thinking with Type is a type book for everyone: designers, writers, editors, students, and anyone else who works with words. The popular companion website to Thinking with Type (www.thinkingwithtype.com.) has been revised to reflect the new material in this second edition. Please click here to see.

Ellen Lupton is one of America's preeminent design educators. Her books include DIY: Design It Yourself, Graphic Design: The New Basics (with Jennifer Cole Phillips), and several others. She is curator of contemporary design at Cooper-Hewitt, National Design Museum in New York, and director of the Graphic Design MFA program at Maryland Institute College of Art (MICA) in Baltimore.